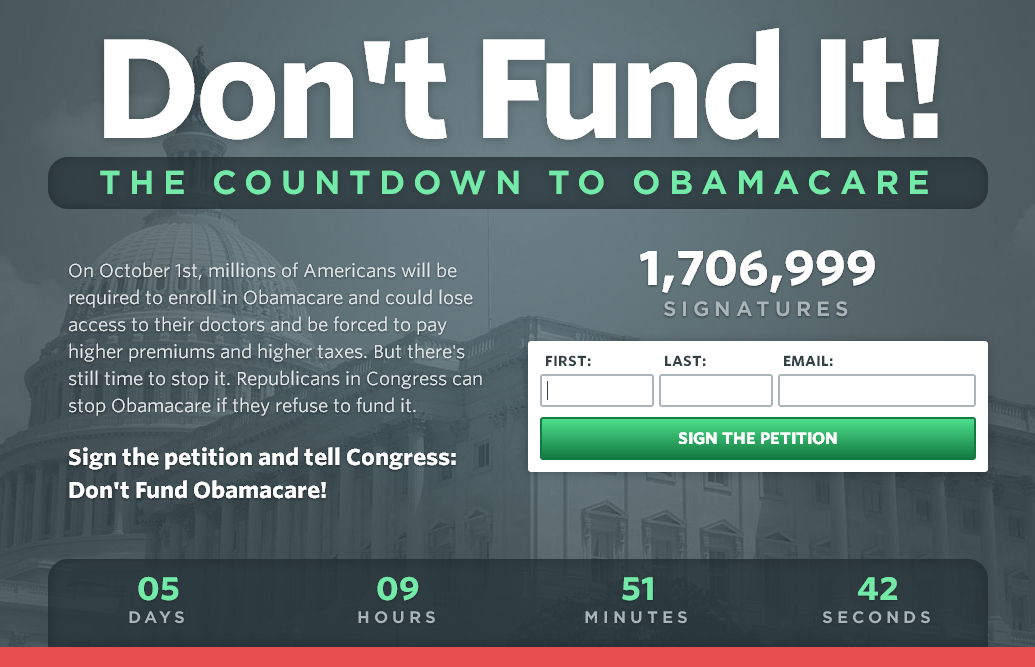 Update: At the conclusion of Senator Ted Cruz's 21 hour "filibuster" on the Senate floor a vote was taken (cloture) which opens the floor to further debate.
It is now expected that a final vote will take place on either Friday or Saturday depending on the length of the debate. Though the continuing resolution – which would maintain the funding for all government programs except for the health care law (Obamacare), has passed in the House, most speculate that it will not pass in the Senate.
On a radio interview with Rush Limbaugh between 1:30pm and 2pm on Wednesday Ted Cruz said that he was encouraged by the noise that the American people have been making.
"When enough people stand up the politicians will take notice." He referenced immigration reform in 2007 as well as the drone debate and debate over Syrian intervention (from this year) as instances where the people were loud and had a positive impact on the course of events.
Senator Cruz asked everyone to visit dontfundit.com to sign the petition to defund the controversial health care law. He also asks that each person actively find three other people to sign the petition as well. He also asks that people call their Senators and let them know that they stand firmly against the health care bill.
When asked whether or not he would prefer a Friday or Saturday vote Senator Cruz replied that he would ultimately prefer Friday, "Because on Saturdays people want to relax and watch football. There are plenty of distractions so Friday afternoon would be a prime time for the people to focus in on the vote."
Obviously that depends on the length of the debate. Here is what we can do to help it along: Be active over the next few days. Sign the petition as Senator Cruz has requested. Ask others to do the same. Call your Senators and make your voices heard. According to Senator Cruz, "At this point, the fight is really in the hands of the people."
Here is the link to Senator Cruz's petition: http://www.dontfundobamacare.com/