For new folks to the LP Process… Candidates must collect "tokens" to get into the official debate. It is a way of determining who has serious support. It is somewhat of a straw poll, but it is the case that some will cast a token because they want to hear more. So, Monds, is sort of newer, and people may want to hear more. But let me give you my analysis of where the race stands.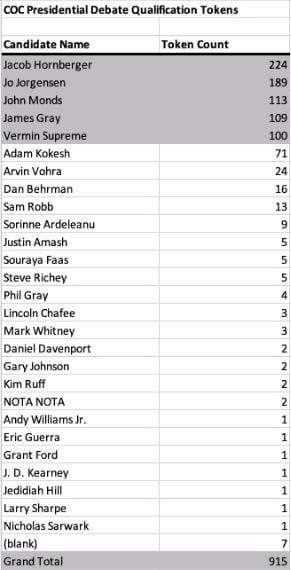 The threshold to win is 50% plus 1, so a little over 500 votes. While Hornberger leads in tokens, his lead is misleading. His base is around 25% of the delegates, as is Smith and other Mises Caucus choices. For a caucus that is less than 3 years old, that is an impressive growth of the percentage.
Hornberger's attacks on Amash did not sit well with delegates from the other camps. This is a tiny camp of people, and turning the guns inward to win is felt more deeply than in other parties. While he has strong positives from folks, he also draws the most detractors. The biggest criticism other than the Amash jabs were his statements that he would rather get one percent in the popular vote with principled people than four percent in the Matt Welch debate on Sunday. Once Johnson hit three percent, several states have enjoyed automatic ballot access for four years, and they weren't happy to hear that from a candidate that has spent 20 years sniping the party from outside.
Delegates are usually made up of the longest-serving party volunteers from around the country. Many of them have been involved for decades. This explains why Harry Brown's running mate from 1996 (Jorgensen) is performing so strongly. She has long-running, deep friendships with the delegates.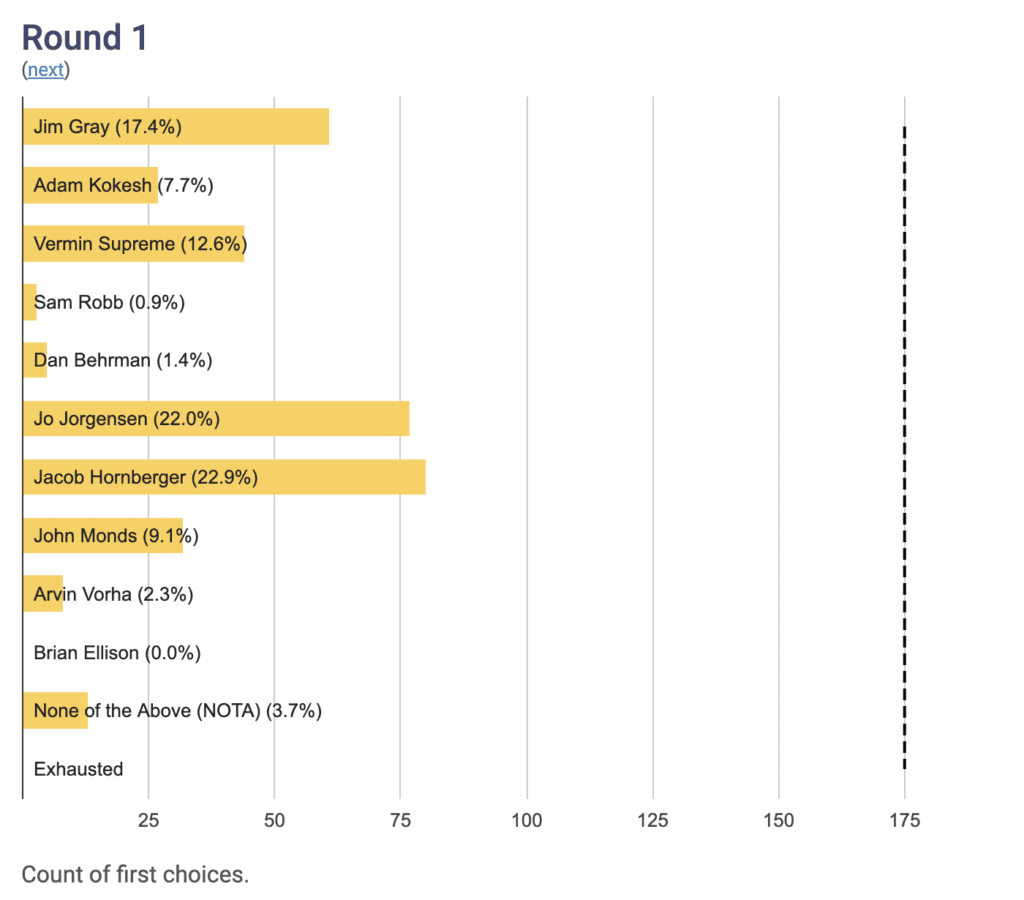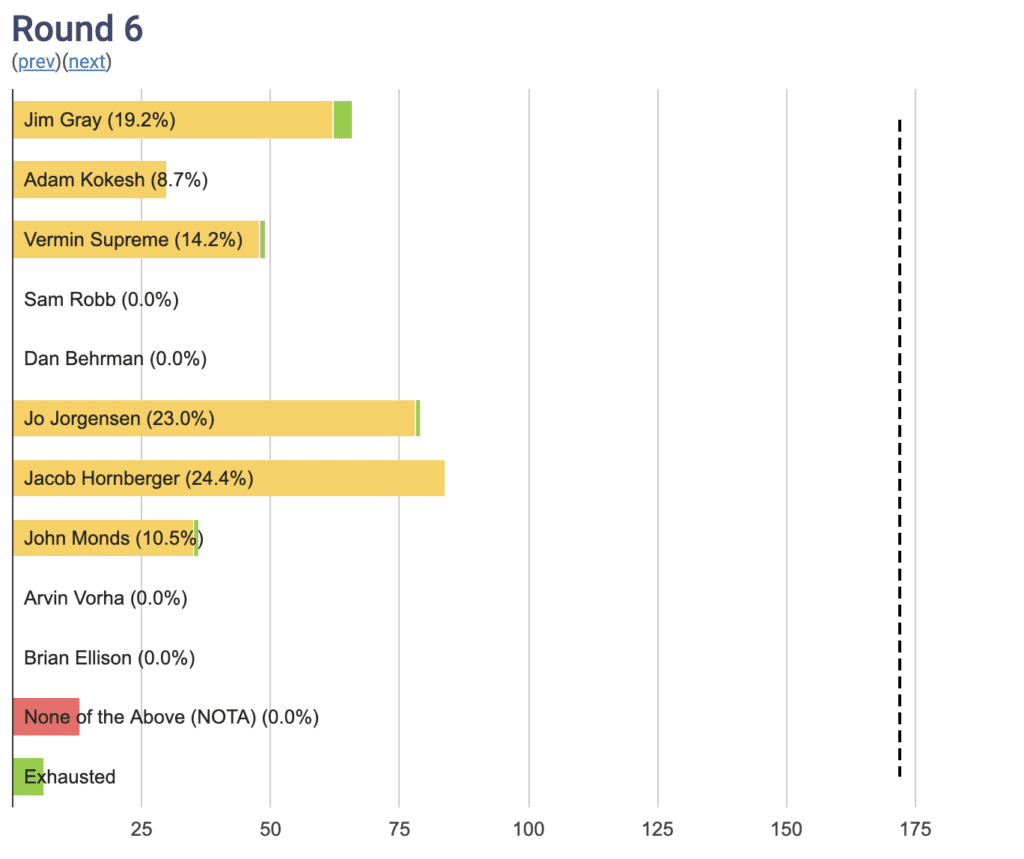 Gray has many Sharpe/Johnson/Amash folks supporting him, but he had a rough week through the debates, and the jury nullification "scandal" hurt. I also heard from some delegates that they were unhappy he went after Jorgensen in some of the debates. If I am on his campaign, I am apprehensive that Monds beat me in tokens.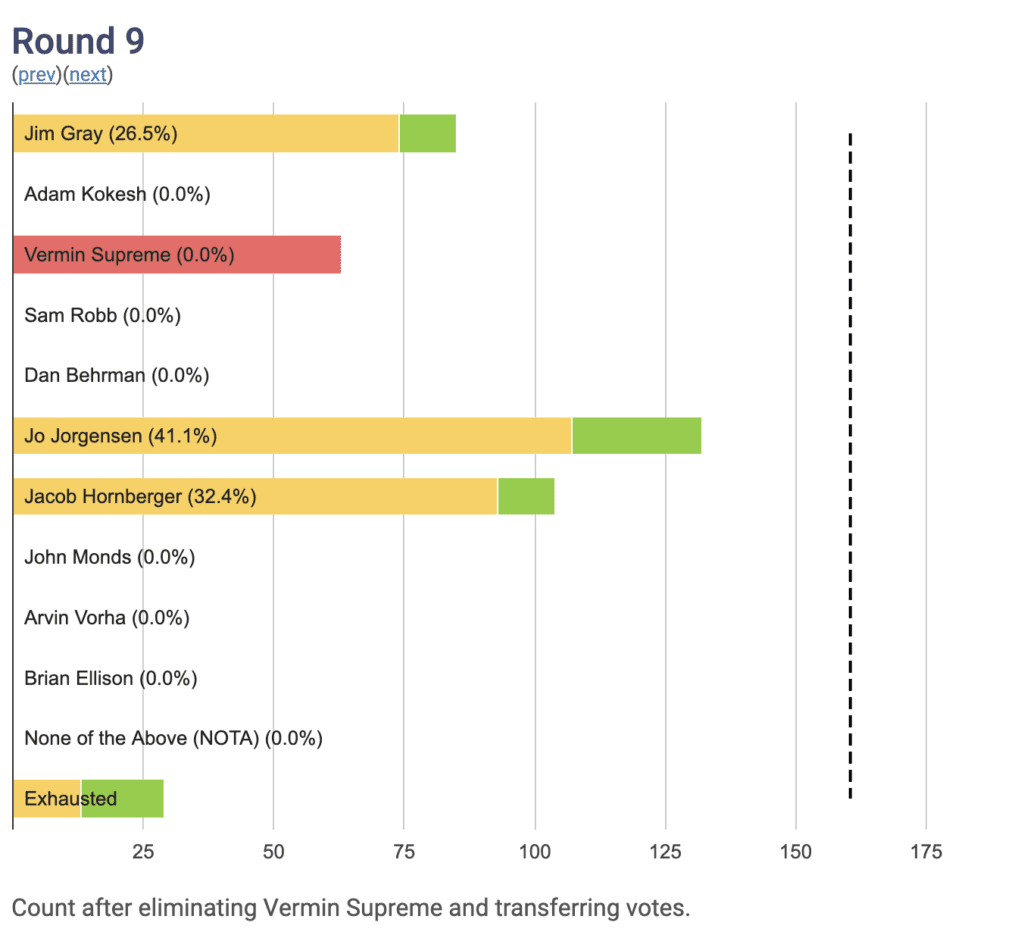 Vermin has a ceiling like Hornberger at a little under 20% of delegates. His supporters are all younger people in the party. Of the many I have privately spoken to, they're not fans of Hornberger, Gray, or Jorgensen. So, where do they go when he is eliminated? Many of them went to Jorgensen a week ago in the LPKY delegate poll.
Monds is getting momentum at the right time: Days before the vote (allegedly Saturday). He is a hybrid of pragmatic solutions and radical messaging. He has been in the party for a long time and has many great relationships. I would bet he is everyone's second choice versus a week ago after strong debate performances.
That is where you want to be. When you look at the ten rounds of the run-off vote, you'll notice Hornberger never really grows. Jorgensen is/was the second choice, and it is why she won on the tenth ballot. Pay attention to the comment section of these debates. The "second favorite" candidate is usually the candidate that gets a mention in a favorable light but does not have strong support or hate either way. The good news is that they were mentioned.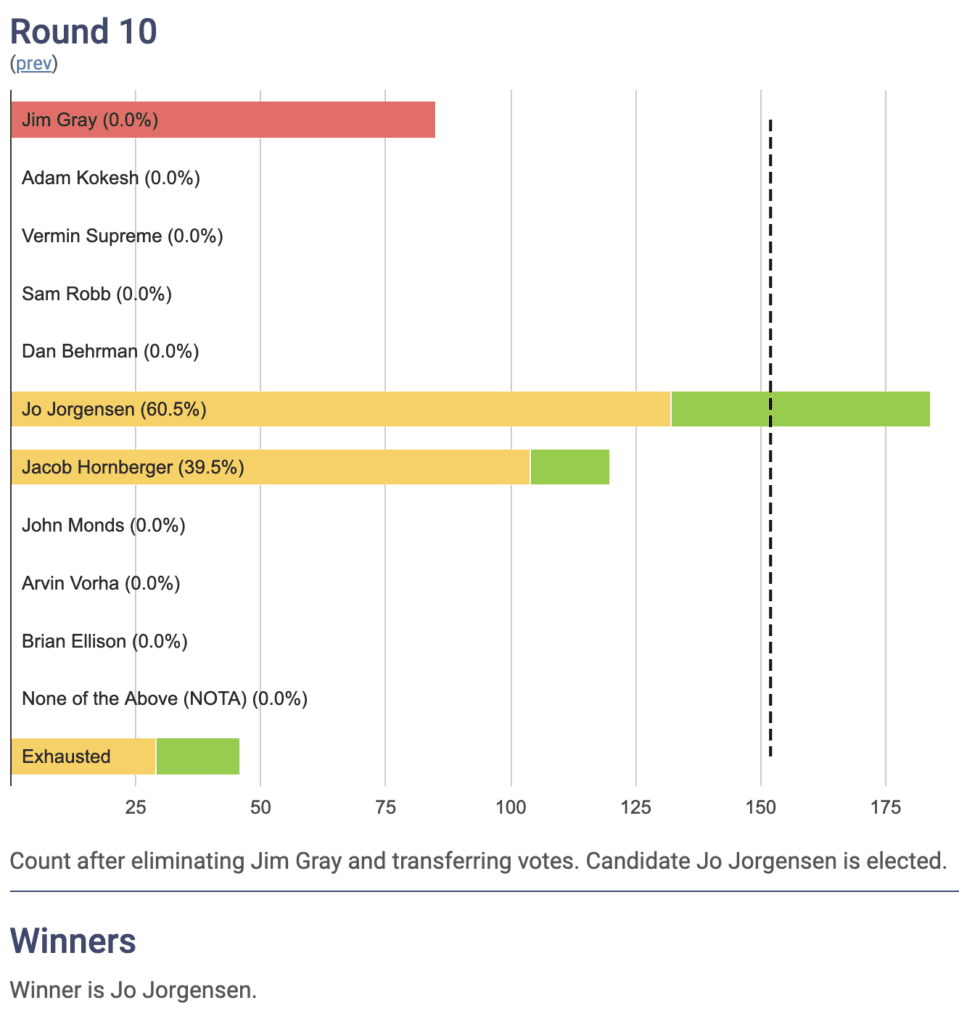 The race is wide open. The fan favorites, Hornberger and Supreme, likely do not have enough broad support to make it to the end unless some deal is struck with the Monds, Gray, or Jorgensen campaigns.
Most delegate eyeballs will be on the Stossel debate tonight, and that can change things.
Hornberger is not out of this, but his attacks on Browne and Amash still linger. Can he re-assure the party faithful that he can carry the banner despite his past? Can Gray and Jorgensen show enough fighting spirit to retain their second-place status and avoid the "boring" tag? Can Supreme convince enough delegates to get in on the joke? Can John Monds breakthrough with a stellar performance and impress delegates seeing him for the first time as a Presidential candidate?
Tune in tonight at 8 PM on the LP National YouTube channel to find out.
Click here to see previous debates.
If I were betting money on who wins Saturday, it would be on Jorgensen or Monds at this point.