Professional Wrestling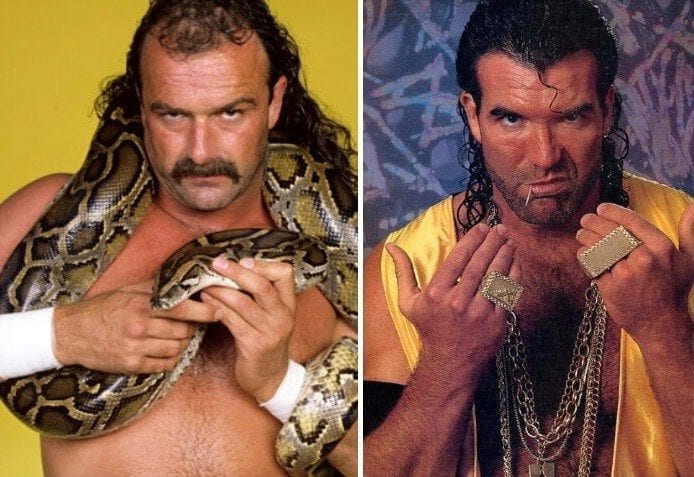 Jake "The Snake" Roberts and Razor Ramon aka Scott Hall
Have you ever seen a professional wrestler? I'm not talking about the independents that run the ropes at their local Boys' and Girls' Clubs because they're passionate about being entertainers. I'm talking about sold out stadiums, bright lights, grand entrances and pyrotechnics. I'm talking about 24-inch pythons, larger than life characters, and the timeless tale of good versus evil.
Whether you're a fan or not, trust me it's a sight to behold. Some of my favorites over the years have included Jake "The Snake" Roberts, Mr. Perfect (Curt Hennig), and Razor Ramon (Scott Hall). As a young boy they were the titans of a counterculture, suspending the disbelief of jaded fans who knowingly watched something scripted and forcing them out of their better judgment, causing them to question what's real.
But as the lights fade on their careers, these men (once monsters) weaken. Mr. Perfect has passed away (Rest in Peace), while Jake Roberts and Scott Hall have both tirelessly wrestled near fatal substance abuse issues to the edge of mortality.
As The Lights Fade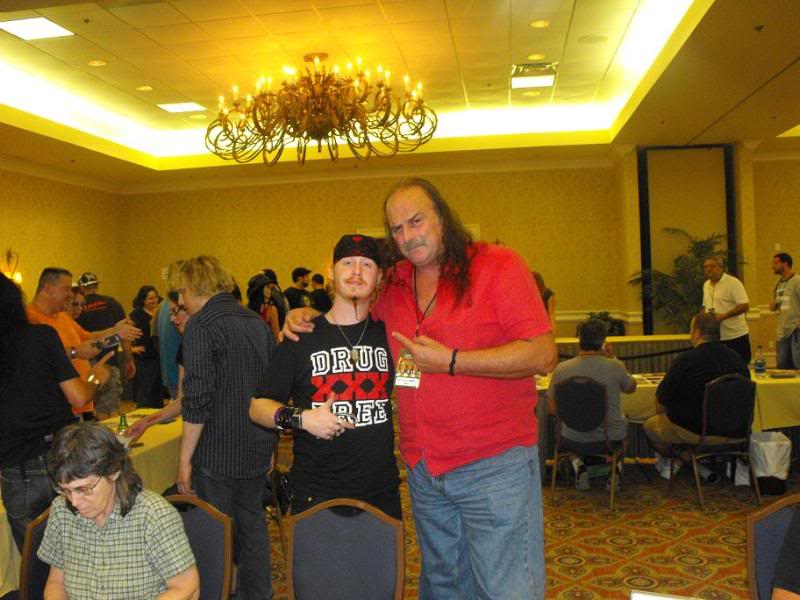 It's Sad When the Mighty Fall
Eventually they begin to accept independent bookings in front of smaller crowds. The pyrotechnics are gone, the stadiums are exchanged for middle school gymnasiums, and the once chiseled specimens approach the ring as pale, overweight, and graying shells of their former selves.
As a fan it's bittersweet. On the one hand it's great to see the superstars of old up close and personal. It's nostalgic and it's wistful. On the other hand it's depressing to see how far they've fallen. It's a question of, would you rather remember them as they were, or get a chance to meet them in person, ultimately confronted by what they've become?
So how does professional wrestling relate to professional politics? Here are three ways:
One: Promoters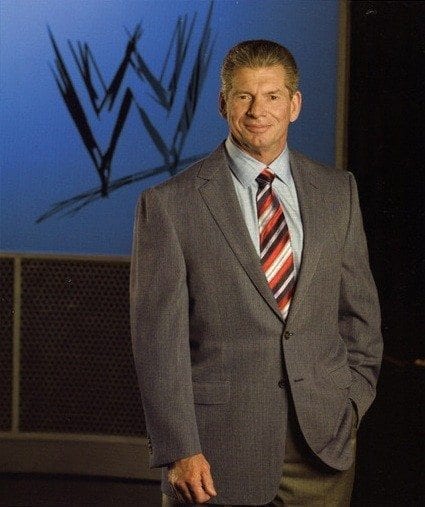 Vincent Kennedy McMahon
At the helm of every great wrestling show is a great wrestling promoter. The most well-known in history has been World Wrestling Entertainment's Vince McMahon. McMahon took his father's already prominent wrestling territory and risked bankruptcy to bring his vision for WrestleMania to the world. And it paid off…big time. To this day his instincts drive the now publicly traded sports entertainment company, and while he hasn't been flawless in his decision making over the years, McMahon's fortune speaks for itself.
In politics it's similar. Have you ever encountered a liberal who didn't come equipped with an anti-Koch Brothers / anti-Fox News stock predisposition? What about a conservative who didn't rail against the ACLU (American Civil Liberties Union) or Amnesty International? While some grassroots movements still exist (equivalent to the wrestling territories of old) these and a handful of other promoters provide the engine that propels the American political system for better or worse.
Two: It's a Work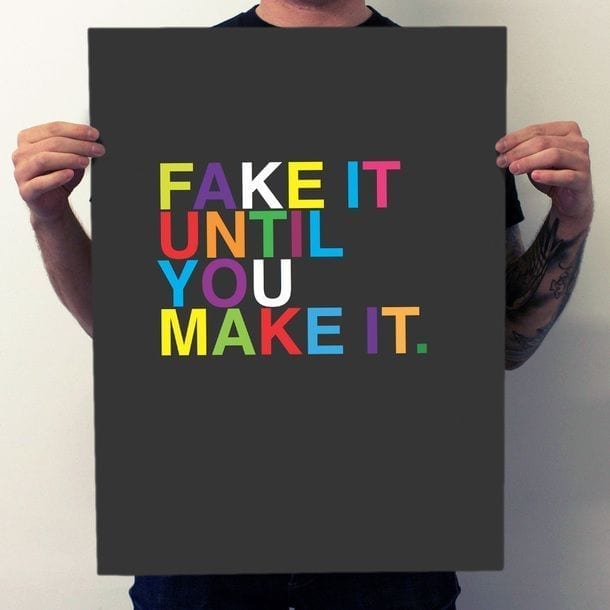 If you're a politician, this is your mantra.
There was a time in professional wrestling when the industry operated off of a concept called kayfabe. You could compare kayfabe to method acting, or always staying in character. Bad guys, or as they were referred to in the industry, heels, would never be caught traveling with wrestlers who portrayed the good guy, or baby face, even though in many cases they got along just fine. So much effort went into preserving a fighter's reputation as either the baddest man on the planet, or a pure and noble superhero of a man, that until the rise of the internet kayfabe remained code among those in the business.
Rowdy Roddy Piper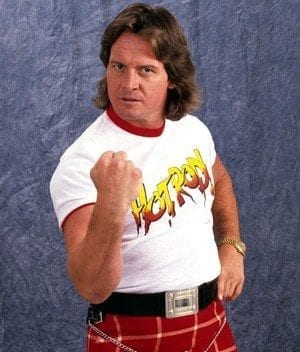 "I came here tonight to kick ass and chew bubblegum. And I'm all out of bubblegum."
Wrestling icon Rowdy Roddy Piper once told a story about how much he was hated in Mexico at a time when audiences still believed that what they were watching was real. At that time he had a tremendous amount of heat with Mexican wrestling fans. He portrayed his character so well that they all wanted to see him die. With kayfabe, a bad guy character wasn't doing his job if he wasn't receiving legitimate threats from the viewers.
As he stepped in the ring and grabbed the microphone he politely asked that the audience rise for the playing of the Mexican National Anthem. The audience was confused. This was a change of pace for Piper, and paying tribute to the country's national anthem was more like something a baby face wrestler, who was trying to win over the audience, would do. Regardless they stood in respect and the arena became silent. But as Piper lifted his microphone to perform the Mexican National Anthem, he instead swerved into a verse of La Cucaracha. Fans were livid. This move would cement his place as one of the most reviled bad guys of all time.
In Politics
"How many times do I have to tell you guys? For the last time. He will read anything you put on the teleprompter!"
Politics is like that too. It's not that a man (or woman) decides to run for office and simply files the paperwork to do so, giving all of his (or her) personal opinions on the issues, and speaking from his (or her) heart during interviews and debates.
Instead, devoted teams of debate coaches, publicists, fundraisers, campaign consultants, speech writers, and sample groups coalesce to train and coach a candidate on how he (or she) can best be presented to the public. These teams understand one of the most disappointing and yet, entirely true rules of communication. That is that candidates aren't elected because of what they believe. Candidates are elected because of what people perceive.
In 2012 Newt Gingrich was chastised on the Presidential campaign trail for pandering to various audiences. He was accused of tailoring his speeches for the audience that he was speaking to, telling them what they wanted to hear rather than what he believed, in order to gain favor. In reality, all politicians do it. Ron Paul may have been the exception, but then again it's no coincidence that he didn't get elected either.
In professional wrestling a scripted outcome or set of circumstances designed to draw a specific reaction from an audience is called a "work." Politics is a work too. It's a fantastic work that the majority of Americans continue to buy into.
Three: It Takes a Toll
Scripted or not, wrestling comes with its fair share of injuries. These days wrestling promotions are more cautious. As society has learned more about concussions, promoters have hired traveling physicians as a means of protecting their investments. But there was a time as recent as the late 1990's and early 2000's when wrestlers masked their injuries with pain killers and other drugs in an attempt to persevere, continue making money, and continue paying their dues in an extremely competitive environment.
Now, aside from Rob Ford, it's not that politicians get hooked on prescription pain killers and other substances. But you can definitely tell the difference between the vibrant energy of a campaigning politician, and an elected official who's been dealing with the rigors of his profession. Just look at President Barack Obama in 2007 versus President Obama in 2015.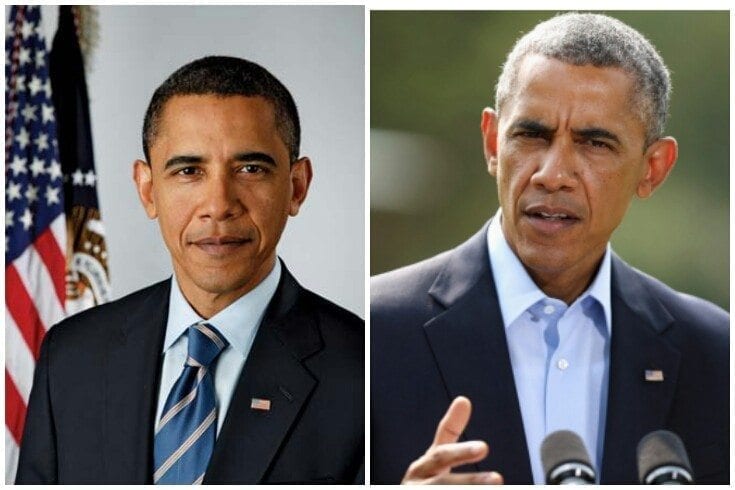 "I'm not just the hair club president. I'm also a member."
Gary Johnson
Gary Johnson is another figure to note. When Gary Johnson ran as a Republican in the 2012 Republican primary process he seemed like one of the more youthful and animated candidates vying for a position in the debates. Yet, because politics is a work it was decided that he would not be included in more than two national debates and he soon left the Republican Party for a place of prominence in the Libertarian Party.
Johnson traveled as hard as he could and met as many people as possible, but at the end of the day walked away from the 2012 race with a mere 1%. That 1% wasn't an awful showing for the Libertarian Party (historically speaking). But, as a man who holds himself to a high standard of success Gov. Johnson undoubtedly had higher hopes as for the election's outcome.
CPAC 2015
The Huffington Post recently ran a piece titled "Gary Johnson At CPAC: ¯\_(ツ)_/¯." In it Gary Johnson was portrayed as a likable figure in the libertarian movement who, despite fighting mainstream practices for the past three years, still felt discouraged about how much traction he has been able to gain for the cause.
His battles have included lawsuits over equal time in debates, something that he was definitely not given during his 2012 campaign. He has also been serving as the Honorary Chairman of the Our America Initiative and has stated that he will likely seek the Presidential nomination for the Libertarian Party again in 2016.
But it's quite noticeable to the naked eye that politics have taken a toll on Gov. Johnson as well. Look at this picture of Gary Johnson in 2012 next to a picture of him at this year's CPAC. It's evident that politics, like professional wrestling, has a way of aging its contenders.
Perhaps it's exaggerated by the fact that Gov. Johnson is slouched over faking a heart attack on stage, but the aging of a man in a stressful professional is still evident.
So there you have it, 3 ways professional politics are like professional wrestling.
P.S. It's no secret that Gov. Johnson is a good friend to We Are Libertarians. Go back and listen to his appearance on We Are Libertarians here: wearelibertarians.com/interview-gary-johnson