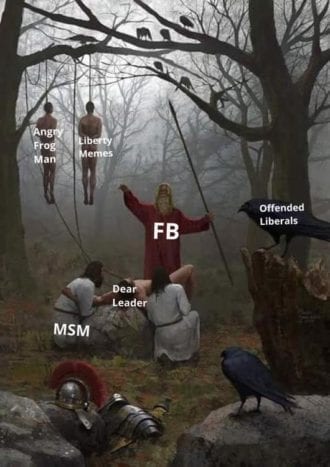 I have been banned by Facebook for 30 days. Lil' ole' outrageous me. I've been banned once before, so the previous protocol would be a 3-day ban… But midterms are coming up and Zuckerberg has pledged to clean up the site. That means troublemakers like myself are being banned past the midterms. So what did I do?
The given reason was a comment on the WAL Page a week ago saying that their argument was the equivalent of a Good German saying that Jews may have been the problem. This was a historical argument over language that was labeled as hate speech by Facebook. I've been put in timeout to reflect on my behavior, and I've determined I did nothing wrong.
The real reason in my mind would be my interviews with and posts about Liberty Memes being taken down. Within 24 hours of my Facebook Live with Peter Gay, I was banned for a comment made a week ago. We posted our interview in many places and it was shared many times.
Over the last week, I have reconsidered my thinking on leaving the platform. I think libertarians have to be lions in the face of censorship. When one of us is censored, 100 more need to pop up and spread the word. When one page is taken down, we need to build networks to repopulate those pages with a record speed. We need to make Silicon Valley feel the power of the libertarian voice. It will be necessary to have the cooperation of many factions within the libertarian movement. Some libertarian brands may need to promote or share content from other libertarian brands they find disagreeable. If you follow a page, independent media outlet, or a libertarian blog, encourage the owners to share replacement pages like Liberty Memes 2.0. It is necessary to maintain the libertarian voice in the public square.
Now that I am on their radar, it is only a matter of time before my ability to communicate to you through Facebook is taken away for good. That is why it is so important to subscribe to all of our social platforms below, our podcasts, and this email list. Bookmark the websites. Donate on Patreon because it costs money to diversify our voice.
Libertarianism flourished before social media and it will flourish long after it because our ideas are right. Just keep talking.
[youtube id="jj1xu6NoleFg"]