Today, President Obama unveiled a new proposal: Make two years of community college free for responsible students across America.
[mom_video type="youtube" id="xXtUJX8L9L4″ width="500″ height="350″]
Here's the President's argument,
"In our growing global economy, Americans need to have more knowledge and more skills to compete — by 2020, an estimated 35 percent of job openings will require at least a bachelor's degree, and 30 percent will require some college or an associate's degree. Students should be able to get the knowledge and the skills they need without taking on decades' worth of student debt." (Source)
On it's face, it seems like a reasonable proposal, does it not?
But, as in all matters of public policy, the Cheney…er umm..devil is in the details.
Let's look at the President's proposed numbers:
If all 50 states choose to implement the President's new community college proposal, it could:
Save a full-time community college student $3,800 in tuition per year on average
Benefit roughly 9 million students each year
Under President Obama's new proposal, students would be able to earn the first half of a bachelor's degree, or earn the technical skills needed in the workforce — all at no cost to them.
What will each student be required to do in order to qualify?
What students have to do: Students must attend community college at least half-time, maintain a 2.5 GPA, and make steady progress toward completing their program.
What community colleges have to do: Community colleges will be expected to offer programs that are either 1) academic programs that fully transfer credits to local public four-year colleges and universities, or 2) occupational training programs with high graduation rates and lead to in-demand degrees and certificates. Community colleges must also adopt promising and evidence-based institutional reforms to improve student outcomes.
What the federal government has to do: Federal funding will cover three-quarters of the average cost of community college. Participating states will be expected to contribute the remaining funds necessary to eliminate the tuition for eligible students.
Additionally, President Obama's proposal would create a new "fund" for expanding innovative, high-quality technical training programs across the country. Specifically, the fund will award programs that:
Have strong employer partnerships and include work-based learning opportunities
Provide accelerated training
Accommodate part-time work
Since the President only seems to have the beginning outline of his proposal, maybe we should ask whose idea he is copying? After all, he told us time and time again during the 2012 Presidential campaign, that the model for the Health Care Exchange, was Mitt Romney's Massachusetts health care system.
So who is the Copier-in-Chief borrowing from this time? Good Ol' Rocky Top Tennessee.
Tennessee Promise Scholarship Act of 2014:  The Basics
-Creates a new Trust account from transferred funds out of the Tennessee Lottery Reserve account. The interest from the Trust combined with available surplus revenues from the Tennessee lottery proceeds will be placed in a secondary account – the Tennessee Promise Special Reserve.
-Funds available in the Tn Promise Special Reserve will be used to provide "last dollar" awards, after all other scholarships and financial aid, towards the cost of tuition and fees for first-time freshman students pursuing an associates degree or technical certificate.
-Requires participating students to 'buy-in' to the program through public service and mentoring programs.
–  Creates the Wilder-Naifeh Reconnect Grant, a one-time grant for non-traditional students seeking a technical certificate. The grant amount will  cover tuition/fees at one of the technology centers.
–  Changes the HOPE award amounts for freshmen and sophomores at both two and four year institutions:
–  Community college freshmen/sophomores: increase award from $1000/per semester to $1500/per semester.
–  University freshmen/sophomores: Reduce award from $2000/per semester to $1750/per semester.
–  University juniors/seniors: Increase award amount from $2000/per semester to $2250 /per semester.
–  Community college students: Reduce the ASPIRE supplement for need-based students by $500/per semester.
–  Changes the terminating events for HOPE scholarship eligibility: The 8 Semester Provision.  HOPE recipients may retain the scholarship until the first of the following:
–  have earned their degree
–  been enrolled for five years
OR until whichever occurs last between:
–  a student has received HOPE for eight semesters
–  a student has attempted 120 semester hours.
How effective has the Tennessee Promise program been financially assisting those who need it most?
"New programs touting "free" community college, including Tennessee Promise as well as those proposed in Oregon, Mississippi, and Chicago, have been offered as "last-dollar" scholarships — covering only tuition and fees that are not covered by all other existing grant aid…
Last-dollar programs do not cover other necessities like room, board, books, supplies, and transportation that most students need in order to attend school and to survive.
The practical effect of these last-dollar programs is also to spend the most state money on students who need the least aid.
The targeting of aid in last-dollar programs is specifically designed to keep state expenditures at a minimum.
The intention of the Promise program to direct additional funding toward low-income students and increase degree completion is well intentioned.
But unfortunately it fails to reach the students who need the most help." (Source)
So we've got ourselves a proposal for 2 years of free community college, that won't help those who need it most. Is anyone shocked? These are the same folks that created an act in direct violation of the 4th amendment and named it "The Patriot Act".
Now, I'm sure that the inquisitive minds among you have been asking the question:
How does President Obama propose we pay for this?
He doesn't. He gives no detail on how this will be paid for, only that the federal government will pick up ¾ of the tab as long as states are willing to pick up the remaining ¼. Given the federal government's full coffers, I'm sure footing the bill for such a proposal is such a minute detail, we needn't worry about the impending state and federal tax increases that are surely to come…
Oh wait, we can't even balance our budget now. Let alone if we start offering 2 free years of community college to everyone. But I'm sure the tab won't be too bad, tuition is cheap right?
The entire reason college tuition has increased 1134% since 1978, is because the federal government has been subsidizing it.
Here are the facts:
-Average cost of tuition, fees, room, and board at  4 Year Universities in 1978: $2,967
-Department of Education is created in 1979
-Office of Federal Student Aid is created within Department of Education in 1979
–Mission of Office of Federal Student Aid: The programs Federal Student Aid administers comprise the nation's largest source of student financial aid: during the 2010-11 school year alone, Federal Student Aid provided approximately $144 billion in new aid to nearly 15 million postsecondary students and their families. While overseeing $864 billion in outstanding student loans. (Source)
Now, correlation isn't causation, but when you start lowering the price of a product by subsidizing it, the customer starts looking at more expensive goods, or in some cases, not considering price at all.
The financiers (banks and the federal government) created an incentive for themselves to lend more and more money. Why? Because the more money the financier can get you to borrow, the more money they make. Private banks had a repayment guarantee from the federal government.
The government has the monopoly on force and so if a customer doesn't repay them on time, they can garnish their wages, charge fees, and add penalties for lack of repayment.
The education provider, universities and colleges, must have thought they died and went to heaven when the government started subsidizing the cost of college by guaranteeing private loans, offering their own loans, and dishing out grant money like Oprah.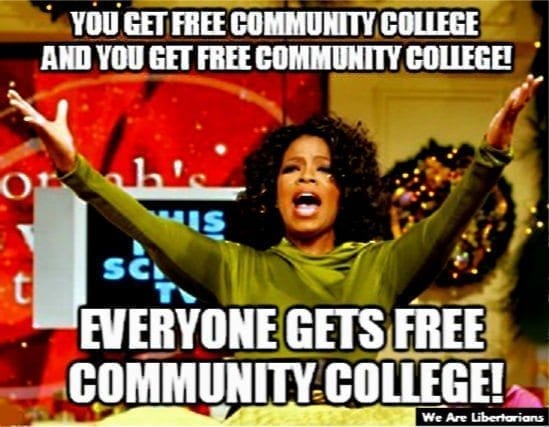 They were selling their product to a customer who didn't care about the cost of what they were offering because it was being mostly financed and repayment was years away.
The financing was guaranteed, so colleges knew they could keep building larger facilities and offering better compensation plans to lure renowned professors. This improved their prestige, which in turn increased their odds in receiving federal, state, and private research money.
What was the result?
An arms race. The government successfully created the educational-industrial complex.
Did they intend to? No.
I believe they genuinely wanted to help lower the cost of college for American citizens, but as we all know, the path to Hell is paved with good intentions.
So given that little history lesson on the financing of higher education in America, what do you think will happen to the price of tuition once it's free?
Somebody tell the Federal Reserve to call over to the Bureau of Engraving and Printing. Tell them to make sure those printing presses are tuned up because shutting down for repairs won't be an option.