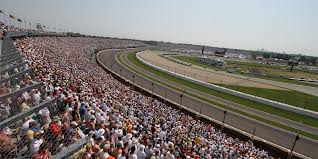 Let me preface this writing by saying that as a NASCAR fan I absolutely love the idea of night racing at Indianapolis Motor Speedway. Heck, you could put lights on I-465 and I'd show up to watch the cars race in traffic minus the bump drafting and periodic cautions. Night racing is absolutely amazing to watch.
However, the Libertarian in me thinks the idea that IMS has pitched is one of the worst I have ever heard. The fact that the Indiana Senate approved the motor sports investment district to help offset a projected $100 million investment to the facility is horrible.
In case you missed it, the investment district would capture the state sales and income taxes projected at $5 million per year to help pay off bonds to install lights, upgrade video screens, improve seating and become compliant with federal disabled accessibility requirements.
That's right folks, IMS has joined the likes of the Indianapolis Colts, Indiana Pacers and Indiana Fever in asking for funding and tax breaks. After a century of taking care of itself IMS officials decided to ask the taxpayers for some help.
And they say traditions don't die!
The news would not be so bad, and perhaps easy to stomach, except for that numerous, published reports have surfaced recently stating in the middle of 2011, IMS officials began donating tens of thousands to political campaigns – a total of more than $100,000 exchanged hands.
IMS officials donated $5,000 to Gov. Mike Pence and $11,000 to Democrat John Gregg. There are no published reports of money being given to the only candidate that I am aware of to take part in the "Celebrity Red Carpet Walk" during the Indy 500 — Rupert Boneham.
IMS spokesman Doug Boles said IMS made "a strategic decision." Uh, I would say so Doug!
Boles also said it did not coincide with plans to ask for state funding. To borrow a famous phrase, "You lie!" This was a calculated move by IMS officials and don't let them have you think otherwise.
You don't give more than you have if you don't have an agenda or want something in return. IMS has entered the big-boy world of political cronyism, corruption, and lobbying with this measure.
Are we truly surprised the Senate gave the green light for this project? Heck no!  They knew who buttered their bread. This has nothing to do with night racing, the Indy 500, or the bringing fans back to the Brickyard (news flash, fans left when the Brickyard had tire issues and follow the leader racing became boring at the famed speedway).
Instead this is all about corporate greed and corporate welfare. I never thought I'd see the day when IMS would stoop to this level. Now, if you'll excuse me, I need to order season tickets for the ONLY sports entity in Indianapolis that has not asked for tax dollars — the Indianapolis Indians.