Many conspiracy theories are circulating the internet over the Las Vegas shooting. This is one.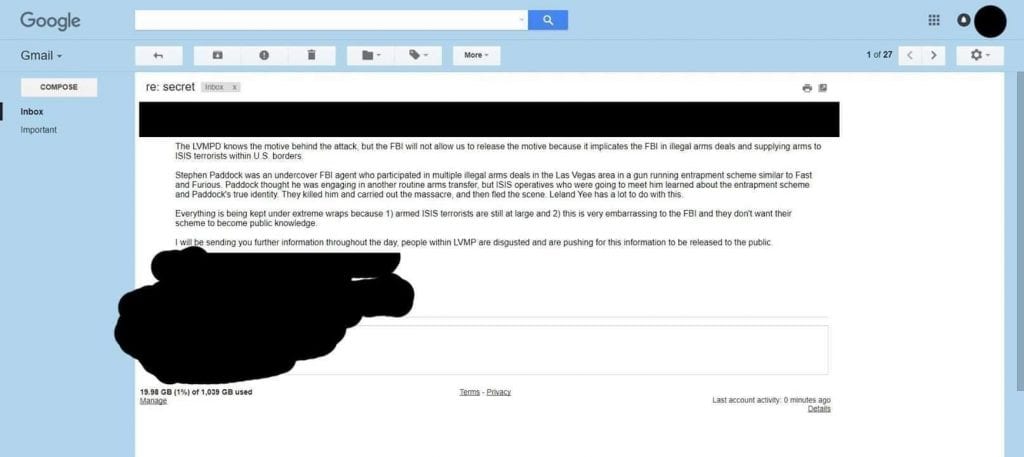 As you read it, your brain will say "Huh. I can buy that." Then you'll hear little pieces of evidence that seem to fit that theory. Then you believe it as you see others around you talking about it. Our fellow animals confirm things in our pack. We are also pattern creatures. Our brains love patterns because it saves calories which equals survival.
Conspiracies pop up because the killer fits no pattern. He isn't in some box where we can classify him and ignore him. Religion, politics, revenge, money or clear mental insanity don't seem to be his motive. He brought 23 guns into one of the safest areas of the world with the most surveillance. The security at the venue, the police, and government agencies all acted exemplary.
There is nothing to criticize or blame. There's no motive. There's nothing that could stop it. There's nothing that can fix it.
That's when the existential dread sets in. What if I turn into the monster? What if that old man in the Chili's on Saturday's is the next killer? We begin searching for predictability.
Americans take for granted the relative safety that blankets us. In both history and the rest of the world, we've never been more likely to return home at the end of the day. We are still humans with danger detectors in our brains, and they are going off.
I am reminded of a friend involved in a domestic violence situation. She was struggling to understand how her ex-husband could turn into a hunter. Her counselor said, "You are a rational being. Our minds are incapable of making sense of the irrational thought. There is no answer, and that is uncomfortable for us."