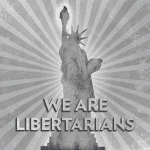 We Are Libertarians bring you all of the irreverence modern politics deserves while putting people before political parties. We examine current events from a libertarian perspective with the goal of leaving you better informed. Join Chris Spangle and other cohosts twice a week as we apply the libertarian philosophy to the news. Learn more about us at http://wearelibertarians.com/ Snapchat/Twitter: WeRLibertarians, IG/Facebook: WeAreLibertarians, editor@wearelibertarians.com
Our contributors on the We Are Libertarians podcast represent the broad spectrum of viewpoints within libertarian philosophy to bring you a balanced look at the world. As long as it fits within the basic principles of libertarianism, we want to share it and let you sort out what you believe. With nearly 20 millennial contributors, the site is uniquely positioned to express the libertarian vision of the future. Despite this youth, our contributors bring a combined 35 years experience of political activism, party leadership, campaign leadership, issue activism, and journalism.
How to Get the We Are Libertarians Podcast:
Disclaimer: This site and it's content is not an endorsement of any political group, candidate, or party. All of the opinions are those of the individual author making the statement. The views of each contributor do not reflect the opinion of their employer or other contributors. 
---
How to subscribe to a podcast:
By subscribing to this podcast, you will automatically receive the latest episodes downloaded to your computer or portable device. Select the subscription method below that best fits your lifestyle. Also, please rate and review us in iTunes!
IOS (iPhone, iPad, and iPod)
To subscribe, select the "Subscribe on iTunes" button above. We also recommend Downcast.
Mac and Windows
To subscribe, select the "Subscribe on iTunes" button above.
Android and Amazon Fire
Android has a number of podcasting applications available. Two of the most popular podcasting applications are BeyondPod and Podcast Republic. Once the podcasting application of choice is installed on your Android device, select the "BeyondPod for Android" or "Podcast Republic for Android" link above.
Your favorite application
Copy the address found in the box above and paste into your favorite podcast application or news reader.
Bookmark this podcast
To bookmark this podcast site, press the "Ctrl" and "D" keys on your Windows keyboard, or "Command" + "D" for Mac.
Podcast: Play in new window | Download (Duration: 29:58 — 20.6MB) | Embed